Jaquenetta German Shepherd Dogs
---
March 2008
FROM THE SOUTH WEST. JEAN HISCOX.
01749890612. jeanhiscox@jaquenetta.com
Many thanks to Mark Collins for a box of show catalogues and to Wayne Vessey for the same. I was looking through them and came across the Birmingham & District GSDA Golden Jubilee double open show held over a June weekend in 1999. I noticed we had entered Jaquenetta Rhadamanthus in MPD at both shows.We did not exhibit him as he had an ear fault.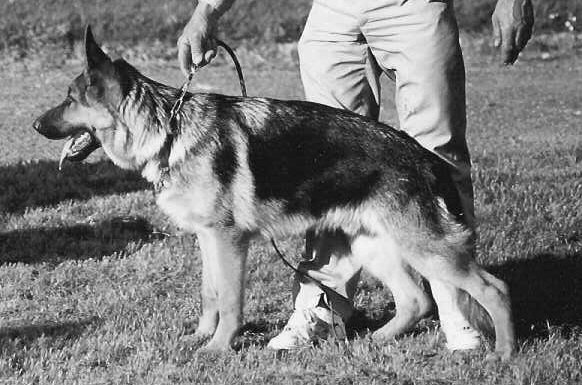 Jaquenetta Rhadamanthus at 7mths
He was a son of Jaquenetta Rosalind (Marto v Trienzbachtal x Renja v Reeshoop) and Moonwinds Mathijs (Nero v Hirschel x Frieda v Arlett). By ten months the ear was still not fully up, so we let him go to a pet home without KC papers. They seemed a nice couple with a smallholding and had lost their elderly GSD. Just after they had him I had a telephone call. She thought she had lost him and went all around the district looking for him and calling his name. She decided to go home for something to eat. She went into the bathroom and there he was, he had followed her in earlier, she had not noticed and had shut the door on him. About a year later we had a telephone call from a friend of this couple who had been given the dog, as they had separated. He thought he was a super quality dog and he wanted to breed one of his bitches with him. He asked if he could buy the KC papers from us. I asked him if both his ears were up. He said one was and the other was half up. I told him sorry, but that was the reason he had been given away without KC papers, as he had an ear fault and should not be used for breeding. He was not very happy about it and rang again very late the next evening after he had been drinking to offer us more money for the KC papers. I told him it was not about money but ethics, I must have finally convinced him as he did not ask again.
We went to Kent Champ. Show where there was a good attendance of exhibits under dog judge John Lijffijt and bitch judge Freddie Christensen who was a replacement for Eva Oster who I hope is feeling a lot better now. The last time I saw him judge was about ten years ago at the South Western GSDC Champ. Show. Jayne Swan judged dogs and Freddie judged bitches. We had entered Rosa, she was pulled out second in her class, but went back behind a bitch being expertly handled by Steve Cox. The judge commented that Rosa had the true effortless Shepherd gait, adding 'but sometimes she goes and sometimes she doesn't', which was not the fault of the bitch but more the condition of the handler who had imbibed a little too freely during the lunch break, and was having trouble keeping up with her. On to the results down to 6th place, 2nd PGD Bowen & Julian's Lararth Sonny. 5th PGD Aldridge's Figo v Amulree. 2nd LD Davies & Davies Silverleigh Estor. 4th OD Ward's Onyx v Estherlager. 3rd PB Williamson's Shellmead Anja. 1st JB Williamson's Silverleigh Queen.4th SpYB Dodds Ardenburg Allegra. 6th PGB Cooper & Ward's Usharrgo Malan.4th LB Phillips & Summers Gwilyms Dallas.6th OB Apps Zeline v Luttersbruch.
Thank you to Sheila for taking my Breed Council Judging certificate to Kent show for me to collect. It was laminated too, very smart. That is all the exams passed to qualify as a Champ. Show judge until the KC think up some more and move the goalposts again.
---
ã2002-2008 jaquenetta all rights reserved