Jaquenetta German Shepherd Dogs
---
C
haracter

(

W

orking

P

otential

) A

ssessment

Devised by Graham Mabbutt.

Held at Devon and Cornwall Police Dog Training School.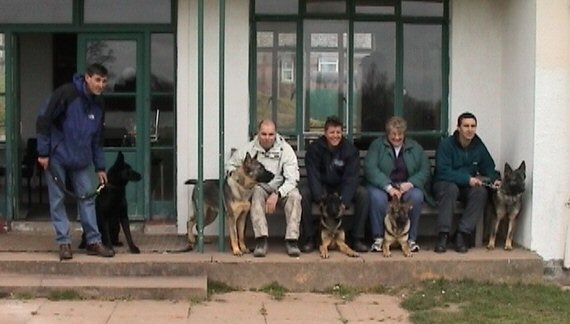 I make no comment on the dogs' construction from the point of view of a breed judge, as I was there purely to observe the assessment of character. I was invited by Graham to attend his second assessment of a litter by Overglinns Bono, ( a working Police dog bred from all working lines ), out of Lidlecornish Kizzy, ( a Dark v Arolser Holz daughter with the dam's line in the third generation including Eiko v Kirschental, Janus v Insel-Wehr, Cito v Bergmannshof, Falk v Haus Edelflor ). The first assessment took place when the litter was 49 days old. At this second assessment the dogs were 10mths of age. Assessing for character is done at these young ages to prove inherited character, after this age training and experience can affect the reactions. A skilful trainer can mask a dog's true character, just as a skilful handler can mask a dog's true construction. The dogs and owners/handlers were; Brodie and B. Wright, Bronson and N. Tarrant, Brannigan and D. Curtis, Brannon owned by the Devon and Cornwall Police, and his handler.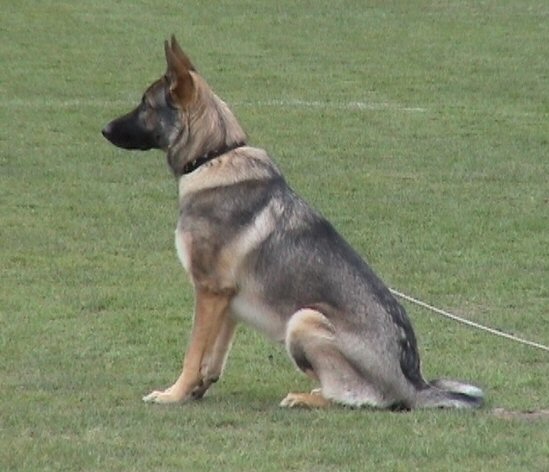 The two assessors were Graham Mabbutt and Dave Edmunds. Brad, the sire of the litter, also attended with his owner/handler Sgt Glennon. The demonstration dog was also his, an 11mth old Malinois, who had recently successfully completed the Police Training Course. I would have found it more interesting if the sire of the litter had been the demonstration dog. Then his offspring could have been gauged as to which had inherited his characteristics in their reaction to the tests, or to demonstrate his different reaction after training and with more experience. The young German Shepherds completed the assessment on a par with the trained Malinois, which was pleasing. The owners and the dogs on leads mingled together to test for dog aggression. Not sure if this proved anything as they were all litter brothers. For the first part of the assessment the dog was separated from his owner/handler to 'remove association and training that comes from the backup of owner, ensuring as far as possible that all dogs exhibit basic character and are assessed on equal terms.' (Mabbutt). The dog was secured by a weight on a long lead, and his reaction to being left observed. Two of the dogs on being left were calm, two kept running about and became tangled up in the lead, so a person was sent into the centre, which meant two had a person with them and two did not. Reaction to unusual shape. A helper put a sheet over his head, carried a split bamboo cane that he hit against his leg to make a noise, approached towards the dog from about 50yds away.
When he was about 20ft away from the dog he removed the sheet to show himself to the dog. All of the dogs were alert to the unusual shape, two did not seem unduly worried by it, remained calm and confident, but always aware of it in case it became threatening. One began using avoidance tactics, but quickly decided it was no threat and behaved like the other two. One barked and hackled up at it, but unsure, backing away then coming forward again. ( I overheard the Police Sgt. say that was the reaction he wanted, which is what I have come to expect from them ). This dog was also unsure when the sheet was removed to reveal a person, and was reluctant to approach him. Reaction to a friendly approach. Dave or Graham and myself placed a couple of chairs and sat on them near the dog. Two of the dogs acknowledged us but not over friendly. One was too friendly, and one quite ingratiating. Reaction to a rattling moving object. For this a bulky sack on a long rope was moved around, by, and over the dog. The dog that barked and hackled and was unsure at the unusual shape, was calm and unconcerned about the rattling moving shape. One of the dogs which was calm and unconcerned about the unusual shape, backed off and seemed unsure of the object.
The dog was let off the lead for recall to owner, and left off the lead for the next tests. Reaction to invitation to play with a stranger with balls and bite bars. Reaction to being off lead in a hall mixing with adults and children, with no other dogs present. Reaction to being groomed, clipping of toenails, measuring stick, being restrained and rolled onto back, all by owner/handler. which all the dogs completed with the ideal reactions. Reaction to a loud noise. A dummy launcher normally used to train gun dogs was fired. All the dogs reacted with sound nerves, gave attention to direction of sound, but unaffected by noise. Reaction to noise and a moving object. Fired again and the dummy launched, which arced through the sky. The dog's correct action would be to follow the dummy with his eyes, note it fall, chase after it and retrieve it. Two dogs did a textbook reaction. One went to investigate dummy, did not bring it back, owner then went with him and the dog retrieved it. One went to investigate the dummy but did not retrieve it, and when the owner went with him to the dummy he still would not pick it up, so no retrieve.
The dogs' were being assessed for strong nerves, alertness, prey instinct, possessiveness, fighting instinct, response to recall from owner, bond between dog and owner, ability to forget an unpleasant experience, reaction to non-threatening strangers, ability to carry, body sensitivity, intelligence, ability to learn, tractability. I would have liked some tracking/scenting to test for aptitude for nose work to have been included, besides that the assessment covered all the relevant aspects of the canine character. The assessment booklet is easy to understand as it gives the objective of each exercise, the ideal reaction, and the reactions that detract from the ideal. The weekend previous I had attended a Breed Council Survey with our 21/2 years old male, which thoroughly compares the dog to the standard concerning its construction, plus a test for steadiness to gunfire. When we had a bitch surveyed in 1996 more tests were included to assess the character It would be good if the two components could be incorporated, a character assessment when young ( apart from being well-socialized, which they should be anyway, no preparation or training needs to be done.) and a construction assessment when adult to obtain a complete picture of the dog. I would like to thank Graham for the opportunity to observe the characters of these young dogs, which I found of special interest as I have a son and a daughter by Dark v Arolser Holz. out of a bitch from top German show lines, who also have sound nerves and are unaffected by noise.
Copyright J C Hiscox
Previously published in the GSD National Magazine April 2005
---
ã2002-2006 jaquenetta all rights reserved